THE CEO'S GUIDE FOR BUILDING A GREAT WORKPLACE CULTURE
Building great workplaces
How-to lessons from the best workplaces
Wilma D. Mohapatra
It is the day after Cyclone Fani devastated the coastal belt of Orissa. Employees of Ujjivan Small Finance Bank are already back at work. The Ujjivanites have formed task forces and used their internal welfare fund to stock up on essential supplies. Their only purpose for the day is to reach out to their customers, and ensure they receive immediate assistance. Not one thinks twice about setting aside their personal needs and going above and beyond for their customers.
Such stories are plentiful in the best workplaces. The Great Place to Work® India research reveals that, in a High-Trust, High-Performance Culture™, at least 80% of the workforce are committed to stay with the organisation for a long time and are willing to put in extra efforts to get the job done.
It is every CEO's dream to lead an organisation that can deliver sustained business performance through an inspired and engaged workforce. The best workplaces have made this a reality. Here's what we can learn from them: It begins by building the very foundation of a great workplace – 'Trust'. Independent research has proven that trust lies at the heart of any great relationship. One cannot hope to achieve the much-desired organisation capabilities like agility, collaboration and innovation unless the internal people dynamics are being powered by trust.
Our research indicates that there are 3 fundamental elements a leader needs to focus on to create a high trust culture. The Great Place to Work® India research team arrived at this finding by surveying a statistically valid sample of employees from 691 organisations across more than 20 different industries, representing the voice of 18,63,454 employees across India.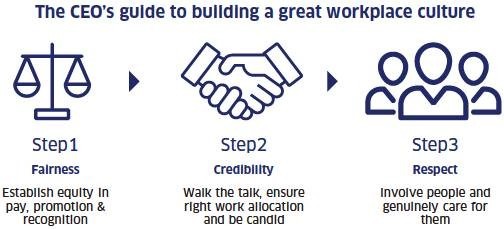 Fairness – The cornerstone of building trust
Trust building efforts fail when people experience a lack of transparency and fairness. At the workplace, the perception of fairness is primarily driven by how people perceive fairness in pay, promotions and recognition. The best workplaces are taking very concrete steps to surface and address such disparities and create a culture that is both, inclusive and fair.
Adobe achieved global gender pay parity for all employees in October 2018. They began their journey two years ago with a clear objective to ensure pay parity for male and female employees, with all criteria – experience, performance, etc. – being equal. After conducting gender pay audits globally, Adobe was able to establish a benchmark to understand the existing pay gap and moved from 96% parity in 2017 to 100% in 2018 in India.
Fairness in recognition is best achieved through a high degree of transparency about good work being done. This is further enhanced when everyone has the opportunity to be recognised as well as recognise others. General Mills takes pride in their rewards & recognition framework as its design enables employees to be nominated by peers, stakeholders, leaders or even by self for different awards.
Credibility – Displaying role modelling,
managerial competence and candid communication
250 managers of Atria Convergence Technologies are gathered at Kochi, for their much sought-after annual retreat. One of the high points is a boat race that was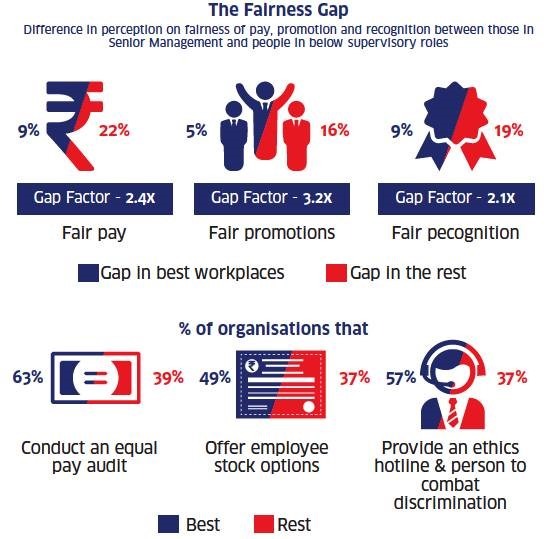 planned. At the appointed time, they march to the water front with traditional music, pomp and drama. As they are about to board the boats, the CEO notices that the event partner has provided most employees with only a floating collar, and not a proper life jacket. It takes Bala Malladi (the CEO) just 30 seconds to call off the boat race. Reason? "I would not allow my son to take part in this boat race with just a collar, why would I allow my people to do so." The result? A lot of people are disappointed at that moment but would later unanimously agree that 'our management walks the talk'.
Leaders at great workplaces choose credibility over populism. Employees perceive leaders as being credible when their action matches words, they do a good job of assigning and coordinating people and provide straight answers to reasonable questions.
To ensure that leaders and managers are holding themselves accountable to walk the talk, SAP Labs publishes a leadership trust net promoter score. Every employee gets a chance to provide feedback to their manager that is based on the simple question: Would you recommend your manager as a manager you trust?
Respect – Involve people and demonstrate care
Involving people in decisions that affect their jobs or work environment, showing sincere interest in them as people and providing special and unique benefits that adequately support them are the top 3 ways CEOs and leaders can demonstrate respect for their people.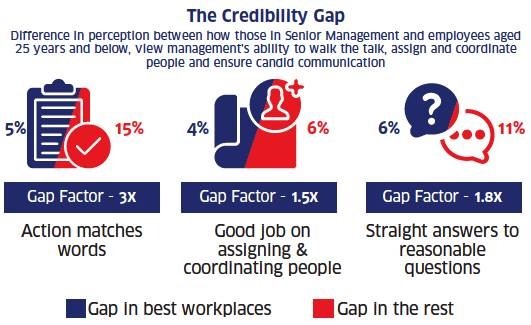 An employee at PayPal writes, "I was looking to return to the workforce, having taken a career break after having my child. I applied through PayPal's Recharge programme and got my job back. This is such a wonderful programme to encourage women to continue their careers and ensure they have equal opportunity. "
Best workplaces focus on providing benefits that promote safety, emotional and physical wellness at the workplace. They recognise that when employees are being taken care of, they bring their whole self to work and are motivated to put in their personal best.
In conclusion
Every CEO and business leader has the opportunity of creating a High-Trust, High-Performance Culture™ that is better for business, people and for the world. It begins by being fair, credible and respectful in how you treat and engage with your people. Sounds challenging? Who ever said building a great workplace was easy? But it starts with the right intent and great leaders are those who are eager to rise to the challenge to hold and build the trust of their people and stakeholders.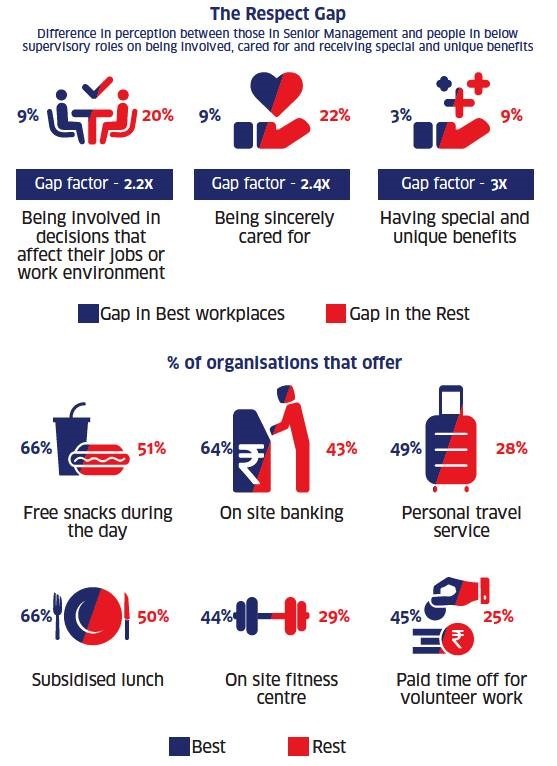 Note: The number of organisations assessed by the Great Place to Work® Institute is independently validated by an audit firm.
—The author is vice president at Great Place to Work® Institute, India
Source: https://epaper.timesgroup.com/Olive/ODN/TheEconomicTimes/# dt 1 JULY 2019