INDIA SKILLS KARNATAKA – 2023
Your skill is your gateway to a world of opportunity
Click Here to Register & Video upload for India Skills competition -2023
https://www.kaushalkar.com/app/world-skill-registration
World Skills India 2023:
World Skills India is an initiative of the National Skill Development Corporation (NSDC) under the aegis of Ministry of Skill Development and Entrepreneurship (MSDE), Government of India. NSDC, through its World Skills India initiative, has been leading the country's participation at World Skills International competitions since 2011.
Karnataka Skill Development Corporation (KSDC) under the Department of Skill Development, Entrepreneurship and Livelihood (SDEL), is all set to host the most prestigious "India Skills Karnataka – 2023".
Aim is to intensively train the winners of India Skills Karnataka 2023 to win in the Regional and National India Skills Competition and represent India in the "World Skills Competition – 2024" held at Lyon, France in 2024.
On the occasion of World Youth Skills Day, 15th July 2022, Hon'ble Chief Minister of Karnataka has launched India Skills- Karnataka 2022 competition. The Registration for 55 skills starts from 1st September 2022 and ends on 31st December 2022.
Skills you can compete: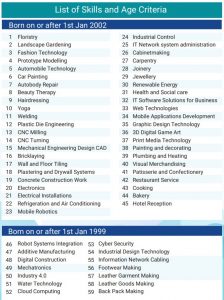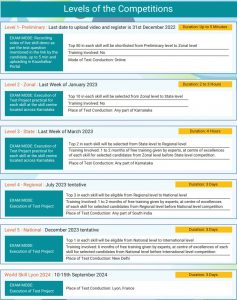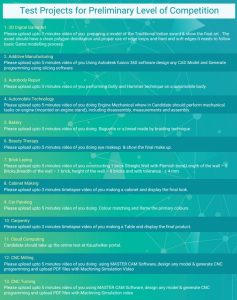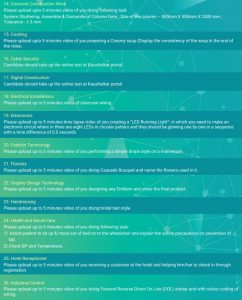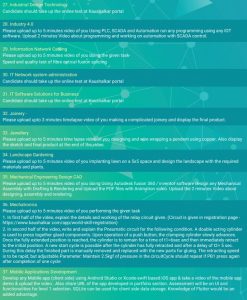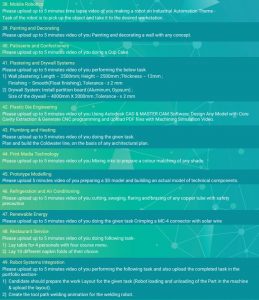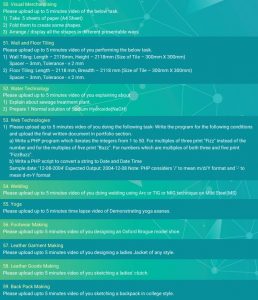 The last day for Registration is 31st December 2022.
FOR ANY FURTHER CLARIFICATIONS CONTACT DETAILS:
Helpline Number – 8277895930
SPOC for Institutions Quires: DSDO
For complete information regarding World Skills and India Skills – Karnataka 2022 kindly log on to: https://www.worldskillsindia.co.in/ and https://www.kaushalkar.com/world-skills-2/
Kindly note that all the cost for training the candidates will be borne by Karnataka Skill Development Corporation.
No fees will be collected by candidates at any phase & it is completely free & borne by KSDC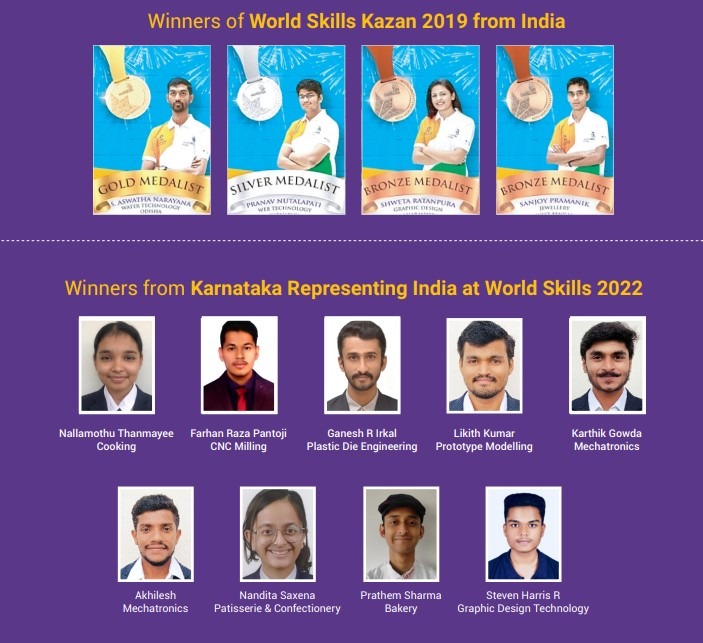 Refer to This links for more information:
World Skills India-2013
https://www.youtube.com/watch?v=s0lNp_fSoqw
Indian finalists at WorldSkills 2017
https://www.youtube.com/watch?v=MOvWkRZfR5I
India's grand victory at WorldSkills Kazan 2019
https://www.youtube.com/watch?v=jxf8hjWkTNk
Welcome to WorldSkills Shanghai 2021
https://www.youtube.com/watch?v=rxHNLBZhRBY
IndiaSkills 2021 skills competitions
https://www.youtube.com/watch?v=UXtrhYoRXSw
India Skills 2021 National Competition Felicitation of Winners
https://www.youtube.com/watch?v=GVb7Q3URfn4
Meet Shweta Ratanpura, India's first-ever woman to win a medal at WorldSkills, Kazan
https://www.youtube.com/watch?v=Eo9lZiLGodg
IndiaSkills Karnataka 2020
https://www.youtube.com/watch?v=XRgJYVNcqvA
India Skills Karnataka 2020
https://www.youtube.com/watch?v=4ThEZkjnjho