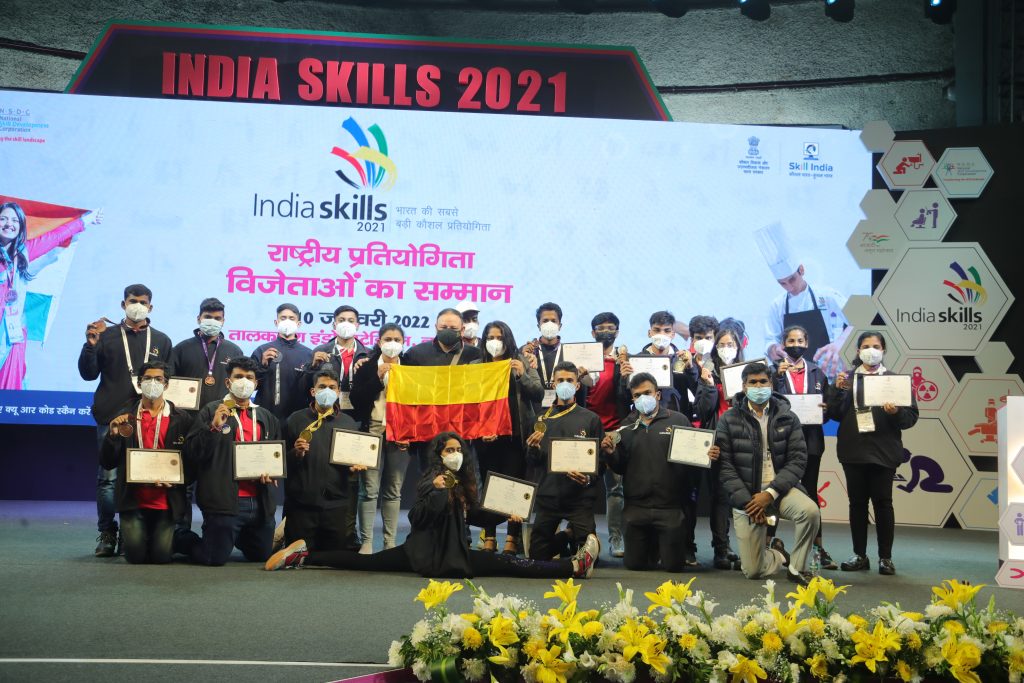 WORLD SKILLS:
World Skills International is a membership organization like International Olympics Association with 85-member countries with reach two-thirds of the world's population and creates measurable impact at every level. It is registered in Netherlands as a not-for-profit organization. It started in 1947 in Spain. It is governed by a General Assembly where each member country has two delegates.
World Skills International functions through a 8 member Board of Directors lead by President Chris Humphries and a secretariat headed by CEO – David Hoey.
The World Skills Competition is a flagship event which is organized once in two years.
VISION:

Improving our world with the power of skills.

MISSION:

To raise the profile and recognition of skilled people, and show how important skills are in achieving economic growth and personal success.
WORLD SKILLS INDIA:
World Skills India is an initiative of the National Skill Development Corporation (NSDC) under the Ministry of Skill Development and Entrepreneurship, Government of India. NSDC, through its World Skills India initiative, has been leading the country's participation at World Skills International competitions since 2011.
Key objectives:
Promulgate skills in society to motivate the youth to pursue vocational education.

Champion skills and learning for work through local, regional, national and international skills competitions.

Create partnership network comprising governments, industry, academic partners, Vocational Education and Training (VET) institutions, trade associations and youth to promote skills.

Establish long-term association with WorldSkills International and other WorldSkills member countries.
INDIA SKILLS:
India Skills, the country's biggest skill competition, is designed to demonstrate the highest standards of skilling and offers a platform to young people to showcase their talent at national and international levels.
India Skills Competition is held every two years with the support of state governments and industry.
VISION & MISSION:
Provide a platform where emerging professionals can display their workplace skills with utmost perfection and make India proud.

Facilitate cooperation among governments, industry and academia.

Create nationwide awareness, ownership and participation across various skills.

Help the Indian youth attain world-class standards of competence, excellence and productivity.
INDIA SKILL – KARNATAKA:
Karnataka Skill Development Corporation conducts competitions at the District, Zonal and State level to identified potential skilled candidates with the help of esteemed training partners to represent the State at the Regional and National level.
In the Year 2021, a total of 15 Gold and 14 Silver medals were won by our candidates in Regionals held at Visakhapatnam and 35 candidates participated in the National Level competition held at New Delhi.
At New Delhi, Karnataka won 08 Gold, 08 Silver, 4 Bronze and 4 Medallion of Excellence. These winners are given intense training for 6 months and best candidate is selected to represent the country in the World Skill Competition 2022.
REGISTRATION:
https://www.kaushalkar.com/app/world-skill-registration
World S

kills India-2013
https://www.youtube.com/watch?v=s0lNp_fSoqw
Indian finalists at WorldSkills 2017
https://www.youtube.com/watch?v=MOvWkRZfR5I
India's grand victory at WorldSkills Kazan 2019
https://www.youtube.com/watch?v=jxf8hjWkTNk
Welcome to WorldSkills Shanghai 2021
https://www.youtube.com/watch?v=rxHNLBZhRBY
IndiaSkills 2021 skills competitions
https://www.youtube.com/watch?v=UXtrhYoRXSw
India Skills 2021 National Competition Felicitation of Winners
https://www.youtube.com/watch?v=GVb7Q3URfn4
Meet Shweta Ratanpura, India's first-ever woman to win a medal at WorldSkills, Kazan
https://www.youtube.com/watch?v=Eo9lZiLGodg
IndiaSkills Karnataka 2020
https://www.youtube.com/watch?v=XRgJYVNcqvA
India Skills Karnataka 2020